News and Weekly Results Summary Archive, 2005/06
St Albans celebrate season successes at CCA awards function
---
April 10, 2006: The Canterbury Cricket Association club and representative awards were held at the Canterbury Horticultural Society Hall, with St Albans players and teams collecting a number of awards on the evening.

Two teams collected trophies for winning their grade, while St Albans players picked up three representative awards. A number of St Albans players were nominated for other prizes or received accolades as part of special achievement awards.

Right: The victorious first reserve grade men with their competition trophy

[St Albans nominees and winners]



Snell takes away top prize at 2005/06 St Albans Cricket Club awards

---
April 8, 2006: Sixth grade captain Everton Snell capped off a successful season with the club's premier award as St Albans celebrated its achievers of the season just completed.

Snell took home three awards including the two batting trophies while Premier men's player Michael Davidson scooped four awards including the two bowling trophies and best all-rounder.

Right: Guest speaker John Wright presents Everton Snell with his player of the year awards [click photo to enlarge]

There was an excellent turnout of nearly 100 people at the clubrooms for the two-hour function. The guest speaker, former Black Cap captain and Indian coach John Wright, was wonderfully well received as he regailed all with funny and interesting tales of his time as a professional cricketer playing for Derbyshire in England and about the fascinating time he had amongst the cricket-crazy masses in India.

[Full list of nominees and winners]



BBBBs win thrilling finale to clinch first reserve grade title

---

March 25, 2006: The first reserve men ensured not all St Albans men's teams went away empty-handed this season by beating Hornby to win their title on the last day's play of the season. Chasing just 92 to win after a fine all-round team bowling effort, it ended up a tense finish against their bitter rivals but Matt Marr guided Saints home with an unbeaten 24 to win by two wickets. Earlier in the day Marr had shown his abilities on the park weren't limited only to batting by taking four catches, effecting a direct-hit run out and chipping in with a wicket from his three overs with the ball.

The win maintains the BBBBs reputation as the pre-eminent men's side in Christchurch club cricket with a record second-to-none. Since they picked up their first title in 1993/94 they have only missed out on taking top honours three times, playing in either fourth, fifth or first reserve grade. Their tally of 10 titles in 13 seasons includes a streak of four in a row between 1999/00-2002/03, while on the only three occasions they didn't win (1995/96, 1998/99 and 2003/04), they still finished second. Hats off to captain Tony Falloon and his troops for another stirling performance - with a consistent squad and great team environment, they truly are the benchmark for other teams to aspire to.

Elsewhere for teams in contention for titles, news was somewhat bleaker. The third grade men had led their two-day competition all season only to bottle it in the final match, eventually ending up third in a tight battle at the top. Starting the day 18 runs in arrears of Lancaster Park Woolston, the nightwatchmen pair of Nos. 10 and 11 Bryce Hackett and Dave Guthrie admirably knocked exactly that many runs off before the innings started to slowly spiral into trouble. Battling to score at even two an over, Saints slipped to 46/6, effectively sitting on 28/6 in a single innings encounter. Though their was a lower-order rearguard, the last three wickets fell for the addition of just one run and Saints were left setting Park an inadequate target of 100.

Try as they might, there was no way through the steeled top order who patiently saw off the good balls, knowing they required less than two an over to win. Park eventually triumphed by seven wickets, handing Saints their only loss in a two-innings match and leapfrogging them on the table as a result, but the outcome effectively gave the Sydenham Predators the title after they won by default the week before. It was a tough blow for a Saints team who had been consistent pace-setters for the bulk of the season, having also previously gone through their one-day campaign unbeaten only to be tipped up in a one-off semi-final.

The Premier women also lost their competition decider, going down by seven wickets to Old Boys Collegians Country despite Sarah Burke's 56 setting them up for a competitive total of 128/7. The Twenty20 final was a chance for some redemption for the Premier side who had endured an indifferent season in the one-day and two-day competitions, but sadly lost in the final over.

The first grade Blue and Gold women's teams each ended up in a four-way share of their Twenty20 competition after another result went their way and they themselves won their last matches to finish with a two-win/one-loss record. Ironically, the Blue team only actually played one match (which they lost!), while winning the other two by default. The Golds ended their rocky season on a high with their second win in a row. Their fielding helped restrict Old Boys Collegians Country to 132/5 in their allotted 20 overs, which included three run outs. The top four did the business with the bat and, though there was a late stumble, Saints eventually got home by three wickets with more than an over to spare.

The remaining grades were mostly just playing for pride, with valuable Petersen Shield points on offer if they could jump past other teams in their respective grades on the final day of competition. The Premier men enjoyed a top result by recording a consolation victory over Old Boys Collegians. Saints declared early in the morning session 58 runs behind on the first innings, after agreeing with Old Boys (who were desperate for an outright result to have any remote hope of winning the competition) to set up a fair final innings chase scenario. Captain James Hantz, in his final Premier match, scored an unbeaten 103 as Old Boys rocketed to 161/4 in 26 overs to set Saints a target of 220 at a required rate of a little over four an over.

They got off to a disastrous start, slumping to 10/3 and soon 45/4, before Michael Davidson and the ever-improving youngster Ben Langrope righted the ship. The pair added 124 in good time for the fifth wicket before Langrope fell for 39. But it was Davidson who was the star of the show as he carried on making merry, dominating a seventh wicket stand of 49 with Craig Linton. Davidson finally succumbed going for the winning hit, but not before he had posted a superb 119 off just 145 balls - his first Premier two-day century in his 45-game, 59-innings career stretching back to 1999/00, although it was his second ton in eight days after knocking up an unbeaten 105 against Lancaster Park Woolston! Saints won by four wickets with a few overs in hand to jump ahead of Lancaster Park Woolston on the final table to finish fourth.

The second grade men had one to forget after starting the final day in a formidable position. Leading by 183 runs with six wickets in hand and captain Kelvin Scott poised on 94, things looked rosy. However, Scott was caught in the covers two short of a century and the remaining wickets tumbled quickly as Saints fell from 191/4 to 222 all out. They set Sydenham what was still a competitive target of 215 but could only chip away wickets periodically and always remained behind the eight-ball. Scott's marathon effort of 26-13-42-3 with the ball was in vain as Sydenham ended up victors by four wickets.

The afternoon men's grades were a mixed bag, with their late season form tapering off a week too soon. Only the fifth graders were successful, beating perennial arch-rivals the Marist Fozzie Bs by 51 runs. The match was notable for another choke by a batsman nearing a century, as Pat Gallagher became the first (and only) St Albans player to be dismissed for 99 this season. It would've been Gallagher's third century for the club had he made it and, incidentally, Gallagher also fell just short last season too with a top score of 98 not out. The knock marks the end of 'March madness', a month in which five St Albans players were dismissed in the 90s (including the top four of 99, 98, 97 and 97) out of a total of eight this season.

Fourth and sixth grade both lost comfortably, but the major points of interest in each of these games was focused on certain individual performers. Their captains (James Alabaster and Everton Snell, respectively) were in the midst of a rich vein of form with the bat and a possible record loomed for the latter, but neither man shined in the end. Alabaster fell for 17 to end his three-week run in which he racked up 302 runs on the trot before finally being dismissed. Snell needed 18 runs to reach the 1000-run milestone for the season (21 to achieve it in a single grade), but was dismissed for two, ending up on 981 sixth grade runs and 984 for all St Albans teams in 2005/06. It also meant it was the first time in five innings Snell had been out for under 80! Ben Harris (1040 runs for first grade men in 1987/88) remains the only batsman to score 1000 runs in a season for any St Albans team in the last 30 years.

The Presidents grade men had a disappointing end to the season, losing by a mere eight runs to bottom-of-the-table East Christchurch Shirley Blue, despite another 50 from Mark Hampton, slipping them from a share of third down into fourth position.

The third grade women had to settle for a share of third in their competition with their final-day opposition after failing to chase down a modest Old Boys Collegians Country score of 76. The fourth grade girls finished on a bright note with an easy win over Hornby.

[Results Summary for St Albans Teams]
[Premier Men v Old Boys Collegians Scorecard]
[2005/06 Club Leaderboards: Batting | Bowling]

Final 2005/06 season averages for all teams:
[ Premier Men | 2nd Men | 3rd Men | 1st Reserve Men | 4th Men | 5th Men | 6th Men | Presidents Men | Premier Women | 1st Blue Women | 1st Gold Women | 3rd Women ]


Latest St Albans player profile

---

The latest victim is first grade Gold player/manager Mel Reid. A stalwart of the women's side of the club for the best part of a decade now, Mel has been a part of the highly successful and sociable second grade women's team which has been the leading side in its grade in the last few years. Having captained them to victory two seasons ago, and then when they again swept all before them last year, Mel and her team-mates decided to take the step up to the new first grade competition to further test their skills this season. The step up has proven to be a challenging one, but at least they're still enjoying themselves off the field ... such as at this season's Christmas Party which the Gold team organised for the club. (Older profiles can still be access from popup menu at bottom right of this home page).

[Player Profile: Mel Reid]


Clean sweep for men's teams in afternoon grades

---

March 18, 2006: The lower grade men's teams continued their fine run of form, all winning by relatively convincing margins. Across the four teams they have lost just two of their last 12 games in the previous three rounds, with fourth grade and Presidents grade both unbeaten in this time.

Fourth grade captain James Alabaster's appetite for runs clearly hadn't been satiated the previous weekend (when he scored an unbeaten 194), so added to it with an unbeaten 91 as the team raced to a four-wicket victory with 10 overs to spare. Reaching the target of 165 set by Old Boys Collegians Tan was probably the only thing stopping Alabaster from posting another huge three-figure score. Earlier, Ian Smith made a fine cameo appearance to take 6-28 with the ball, the sixth best figures in the club for the season.

Sixth grade's batting line-up continued to fire as they smashed Burnside West University Blue by 137 runs, scoring more than twice as many runs as their opponents. Captain Everton Snell maintained his sensational run of form in scoring his second 97 in as many weeks - the only faulting of him might be his failure to reach three figures after coming so close! It's the third time he's been dismissed in the 90s this season, and is his third time past 80 without getting a ton in his last three innings. In fairness, he did score an unbeaten 160 not out the innings prior to that and is the only player in the club to score two centuries this year! Having switched on the afterburners over the Christmas break, he has scored 619 runs at 103.16 in the New Year and needs to score just 18 in his final innings next week to reach the Holy Grail of 1000 in a season (he needs 21 runs to perform the feat solely in one grade). Only Ben Harris (1040 for the first grade men in 1987/88) has managed to achieve this in any grade for St Albans in the last 30 years.

Fifth grade capably defended a moderate total of 151, beating Lancaster Park Woolston by the decisive margin of 62 runs. Presidents grade too won well, although the Sumner Misfits did not make it easy for them, eventually going down by 25 runs. Mark Hampton was once again in the runs with a polished 91.

In the morning grades, the Premier men were in a good first-day position against Old Boys Collegians. In reply to Old Boys' solid 252/7 declared, which featured Neil Cross' maiden five-wicket haul for St Albans, Dean Bermingham and Cross set Saints up well at 155/3. Bermingham, unable to play on the second day next week and therefore chasing quick runs, was run out on what turned out to be the last ball of the day for 71.

The second grade men had a remarkably full day's cricket against Sydenham, with the match see-sawing dramatically and ending up well advanced for a potential early finish on the last day. Batting first Saints were rolled for 98 in the morning session, only to turn the tables on Sydenham after lunch and flatten them for 106 - conceding a slender eight-run first-innings lead. English amateur Nick Massey (6-37) was the star with the ball, taking the best figures by any morning grade men's player this season despite nursing a slight hamstring injury. Captain Kelvin Scott turned it on in the second dig, belting an unbeaten 94 to have Saints sitting pretty with a 183-run lead going into day two and six wickets still in hand.

The third grade men are locked in a tight tussle in their competition-decider against Lancaster Park Woolston. Needing to win outright to secure the title, Saints failed to defend their first innings total of 151/7 after their mandatory 50-over declaration, conceding an 18-run lead. Blair Glover was the stalwart, as ever, with the bat, battling through 142 deliveries to score 52 against a demanding bowling attack.

The first reserve men put one hand on the trophy after a six-wicket win over Halswell. Murray Griffin celebrated his last week of bachelorhood by taking 6-27 as St Albans bowled Halswell out for just 116, the third such six-wicket haul of the day by Saints bowlers. Griffin will miss next week's competition decider due to the small matter of his own wedding to attend. However, the squad's depth is such that the BBBBs have more than enough firepower to deal with their closest rivals Hornby, who need to beat the front-running Saints to gain a share of the title.

On the women's side of the club, the Premiers collected another easy win in the Twenty20 competition, to book a place in next week's final. They chased down Old Boys Collegians Country's total of 81 for the loss of only two wickets, and coincidentally will meet Old Boys again in the final.

The first grade Blue team suffered a loss to the same club, falling 30 runs short of their opponent's score of 94. However, the Gold team thrashed East Christchurch Shirley by nine wickets in less than seven overs after bowling them out for a pitiful 40. Both St Albans sides have a one-win/one-loss record and each have a small chance of sharing the Twenty20 title if other results go their way next week.

The third grade women showed their rustiness in going down by 58 runs to Lancaster Park Woolston, who racked up a demanding score of 183. It was the first time they managed to get on to the field as a team in six weeks, having suffered from a terrible run of luck with two washouts, two defaulting opponents and a bye in the previous five. The fourth grade girls' winning run of three-in-a-row came to an end when they lost by eight wickets to Old Boys Collegians Country 50.

[Results Summary for St Albans Teams]
[Premier Men v Old Boys Collegians Scorecard]
[2005/06 Club Leaderboards: Batting | Bowling]


Saints wins Twenty20 Plate final

---

March 17, 2006: St Albans defeated Lancaster Park Woolston by 50 runs in a "Fifteen15" match to secure the Plate title. In a match reduced by five overs per side to ensure a result before it became pitch black, Michael Davidson smashed the first century in the short history of the CCA's Premier Twenty20 competition. Fittingly, Davidson reached the milestone in what was his 100th match for the St Albans Premier men's team since debuting in 1999/2000.

Davidson posted his century in the final over off just 50 balls, including 11 fours and 4 sixes, and eventually ended up on an unbeaten 105 from just 52 deliveries. At one stage he only had 8 off 12 balls, but once he got his eye in the scoring rate accelerated at a rate of knots. Davidson often employed a 'Chanderpaulesque' side-on stance to the slower bowlers and unfurled some innovative strokes such as a cracking reverse-pull shot which whistled to the cover boundary. Davidson's knock was the cornerstone of an imposing total of 152/3, with the second-highest scorer making just 15, leaving what was far from a full-strength Park line-up an asking rate of more than 10 an over for victory.

Andrew Cuttriss removed both the openers, the dangerous duo of James Winstanley and James Baxendale, to effectively seal Park's fate within the first four overs. Cuttriss took an impressive 2-7 from a maximum of three overs, including an extremely rare Twenty20 (wicket) maiden over. As the light faded fast, a succession of part-time slow bowlers were employed to get through the overs, mostly with success. Mark Reid (normally seen behind the stumps with the gloves on) took 2-9 from two overs and Dean Bermingham also chipped in with a wicket after being taken to by Park's top-scorer Kieran Preston (28 not out).

The comfortable win completed St Albans' brief first foray into this new form of the game - the consolation title the result of a two-win, one-loss record in the knockout-style competition, which is set to be continued and possibly expanded next season.

[Premier Men v Lancaster Park Woolston Scorecard]


Top men's teams in heart-breakers

---

March 12, 2006: Both the Premier and second grade men went down in close finishes as they completed their weekend two-dayers. The Premiers only managed to add 26 runs for the final four wickets as both Neil Cross and Andrew Cuttriss just fell short of 50s.

Facing a first-innings deficit of 63, Saints had some serious work to do as Riccarton searched for quick runs to set up a competitive target. Former St Albans player Carl Solomons smashed a rapid-fire 54 after an early let-off and Canterbury player Iain Robertson raced to an unbeaten 42 before Riccarton declared on 170/5 in just 32 overs.

Set a target of 234 at a required rate of around 4.5 an over, Saints made steady progress before losing their sixth wicket with around 100 still required. Craig Linton and Ben Langrope put together an impressive partnership for the seventh wicket to take them to within sight of victory. However, Linton's dismissal for 60, in just his third senior innings, triggered a lower-order tumble and when Langrope was caught at cover for 37 Saints still required nine runs. Last pair Brad Smith and Richard Hooper couldn't repeat their earlier heroics from the game against Lancaster Park Woolston and Smith was caught brilliantly down at third man from a top-edge from an attempted hook shot to give Riccarton the win by three runs.

Second grade's result was just as disappointing, especially considering the great start they had to the day. Needing two wickets to wrap up the East Christchurch Shirley innings, they duly performed that task for no further cost inside the space of just seven deliveries. Taking a more than useful lead of 48 into the second dig on a tricky pitch should have proved decisive but none of the Saints batsmen could really get going and the team stumbled its way to a meagre total of 100.

A target of 149 was short of what was desired but nevertheless still an awkward proposition in the conditions. Easts soon fell to 36/3 and with a bit more luck Saints could've come through with the right result, though some obstinate umpiring scuppered a few crucial, demanding shouts for leg before. Dan Johnston spearheaded the bowling effort for the second time in taking 4-40, giving him match figures of 8-76, but it wasn't quite enough as Saints went down by four wickets. The result puts St Albans out of the running to defend their second grade title, leaving just third grade and first reserve grade on the men's side of the club in with a chance of picking up a trophy.

[Results Summary for St Albans Teams]
[Premier Men v Riccarton Scorecard]
[2005/06 Club Leaderboards: Batting | Bowling]


More amazing individual performances highlight good day for Saints

---

March 11, 2006: Fourth grade captain James Alabaster pulled off the individual batting performance of the season with a spectacular innings of 194 not out against Parklands. On the bare face of it, the sheer tally of runs sounds amazing as it is, but the innings was all the more extraordinary considering how events unfolded.

Having arrived at the crease with the score reading 6/3 he quickly posted his first 20 runs, all in boundaries. However, the side was soon 49/6 before he combined with Jamie Scannell for a partnership of 77 for the seventh wicket. Scannell's departure for 20 (the only other player to reach double figures in the innings) heralded another remarkable collapse as one of the Parklands bowlers proceeded to take a hat-trick.

But the best was yet to come. Alabaster, in the 70s at this stage, was joined by fill-in No. 11 batsman 'Tristan'. The pair added an incredible 136 for the last wicket before Tristan was bowled ... for 5. Alabaster had masterfully manipulated the strike to the degree where he was able to add over 100 runs himself during that final stand. Sadly, his partner's dismissal left him stranded one big hit away from a rare achievement with one ball remaining in the 40-over allotment. He missed out on joining fifth grade captain Matt Sutherland as the only players to score a double century for the club in the last 50 years. He did however knock sixth grade captain Everton Snell, who scored an unbeaten 160 three weeks ago, off the top perch of the highest individual innings ladder.

Alabaster's innings blow-by-blow reads as follows:
4444421211 1242411411 2141141414 2241244111 4412141644 1621261424 2422624241 4161.

That's a total of 26 singles, 17 twos, 26 fours and 5 sixes. His 194 represents a commanding 74% contribution to the team's total of 262, while the other 10 batsmen could muster only 44 runs off the bat between them, including five ducks! Just for good measure, Alabaster followed up this effort with 3-25 from five overs with the ball as Saints wrapped up a 52-run victory.

Elsewhere it was a largely good day for St Albans teams, with the other individual highlight being that of Richard Hooper's hat-trick for the Premier Men in the midst of a haul of 4-70 against Riccarton. Replying to Riccarton's 229/7 declared, Saints were in a little trouble when their sixth wicket fell with fewer than 70 runs on the board. However Neil Cross (40 not out) and Andrew Cuttriss (35 not out) rescued the situation with an unbroken seventh wicket stand to not only avoid the follow-on but now have them quite competitively placed 89 runs in arrears.

The second grade men impressed, despite being hit by a rash of unavailabilities (which also caused the third grade men to default their third place playoff one-day match), to have the better of the opening day in their must-win clash with East Christchurch Shirley. Kim Smythe anchored the innings with a commanding 85 at the top of the order, while Dan Johnston put the icing on the cake with a dashing 50 at nearly two-a-ball pace before a declaration came. Johnston was again to the fore with the ball as Saints require only two wickets with still 48 runs up their sleeves to claim first-innings points.

The first reserve men got back to their winning ways with an important 84-run win over Southern Districts, spearheaded by captain Tony Falloon's 85. It keeps them in first place by the equivalent of one win ahead of Hornby with just two rounds to play. Victory in either of these matches will secure them at least a share of the competition, while victory in both will assure sole ownership of the new title.

The other afternoon grades had a reasonable day too, as sixth grade were emphatic winners by 136 runs after racking up a huge total of 308/7 in their 40 overs. Three players scored 50s, including captain Everton Snell who top-scored with 97 (to follow up his previous two innings of 160 retired hurt and 84), while Dan Hutchinson completed a handy all-round double of 38 not out and 4-13. President's grade completed a comfortable seven-wicket win over Old Boys Collegians Blue as keeper/batsman Jonathan Price continued his fine season with the bat in scoring an unbeaten 75 to guide Saints home. Fifth grade were the only men's side in the club to lose, although they went mightily close in going down by 11 runs to Old Boys Collegians SGC.

The Premier women kicked off their Twenty20 campaign with a resounding nine-wicket win over traditional arch-rivals Lancaster Park Woolston. Saints rollicked to their target of 109 in just 14 overs as Amy Satterthwaite added an unbeaten 45 to go with her 2-9 off 4 overs with the ball.

The first grade women were also making their Twenty20 debuts, although the Blues didn't get on the park as Sydenham defaulted to them. The Gold team scored a mildly competitive 97 against Old Boys Collegians Country but couldn't quite restrict enough in the field, eventually going down by six wickets with three overs to spare despite Mel Reid's three wickets in her four-over spell.

The fourth grade girls had another encouraging result, beating Lancaster Park Woolston by six wickets, for their third successive win.

[Results Summary for St Albans Teams]
[Premier Men v Riccarton Scorecard]
[2005/06 Club Leaderboards: Batting | Bowling]


Rain ruins another day's play

---

March 4, 2006: The first Saturday's cricket of autumn was a non-event thanks to the new season's inhospitable weather. All lower grades were cancelled early in the morning and the Premier and second grade men's and Premier women's games were all called off before the scheduled start time when it became clear conditions would not improve sufficiently in time.

[Results Summary for St Albans Teams]
[Premier Men v Marist Scorecard]
[2005/06 Club Leaderboards: Batting | Bowling]


Former St Albans women's player dies

---
It is with sadness that we advise the death of Marg Francis, a former long-serving member and legend of the women's side of the club. Marg's funeral was held on Thursday at St Giles Presbytarian Church.

Right: Marg Francis (then Alabaster) keeping in a match for Canterbury in 1974/75 [click photo to enlarge]

Marg's Premier women's career spanned more than four decades, starting in 1962/63 and, though retiring to start a family after the 1983/84 season, made two further cameo appearances in 1985/86 and 1991/92. She played 176 matches, scoring 1644 runs at an average of 12.44 and took a handy 47 wickets at 20.66 apiece. However, it was her skills behind the stumps for which she was renowned. To this day her tally of 171 wicket-keeping dismissals stands as a club record for the senior women.

Marg captained the senior women's team in her final full season in 1983/84, leading the side to their first title success since the women's club amalgamated with the men some seven years earlier. She also represented Canterbury between 1971/72 and 1983/84 and holds the record for most first-class dismissals for Canterbury with 72 - a record which is likely to stand forever, as only one-day cricket is played these days. She also jointly holds the first-class record for most dismissals in an innings (5) and in a match (6) for Canterbury.

An honorary associate member of the club, Marg also served in an administrative and support role during her time at the club. She was for some time the club's representative on the Canterbury Women's Cricket Association committee and also served on the club's own management committee in 1977/78 and 1978/79. The following season she stood on the club's 75th jubilee committee, the same season in which she won the Peers Cup for being the club member contributing the most on and off the field.


Mixed results on Sunday of very little action

---

February 26, 2006: Only six out of the 12 St Albans adult teams saw any cricket as Saturday's One-Day International between New Zealand and the West Indies heavily affected the availability of players Christchurch-wide on the Sunday. Of the six teams not to get any action, five defaults were recorded - four in favour of St Albans, one against - and the first reserve grade men had the week off anyway.

The Premier men were in a reasonable position after day one of their match against Marist, although perhaps not as strong as they would've liked considering the modest performance of their opposition throughout the season. Led by an all-round effort from Michael Davidson (4-38 and an unbeaten 57 with the bat), Saints are 25 runs short of gaining first-innings points with four wickets in hand. Neil Cross chipped in with a blazing 53 to continue his fine run of form with the bat (218 runs at an average of 43.60 in the last five weeks) after an indifferent start to the season. Meanwhile, Davidson and Brad Smith (3-33), now locked on 38 wickets apiece, are engaged in a right old battle to claim the accolades for being top wicket-taker during the season.

Sadly, Premier batsman Nigel Jones (formerly Tubb) played his final innings for St Albans before heading off to Ireland to get married and further his game. Jones' last innings was only worth three runs, but can't take anything away from the season's current top Premier run scorer with 454 at an average of 34.92. This comes on the back of a stellar 2004/05 season in which he racked up 879 runs at 46.26. Saints wishes Nigel all the best for the future and hope to see him dropping by Down Under again in a few years!

Second grade are engaged in a tough battle with Southern Districts and need to make all the running next week as the two-day competition heats up with just two further rounds remaining. St Albans are 90/3 chasing 266 for first-innings points, but in doing so will forgo any likely hope of an outright result given the time left in the match. An alternative plan of attack may have to be contemplated in order to maximise the points they can take out of this game, especially given they are nearly 16 points off the lead and a number of other teams are close by and ready to pounce too.

Third grade too are battling more than they would like, despite having taken first innings honours on day one. A lightning-fast outfield and small boundaries saw a high scoring rate throughout the day as Old Boys Collegians rattled up 184 in good time, despite only having nine men. James Kilgour bustled in to take 5-38 for Saints, by far the standout in a lacklustre bowling effort. A 118-run second wicket partnership between Blair Glover (73) and Josh Jones (64) set things up nicely as St Albans looked to build a telling advantage. However, after getting to within 14 runs of the Old Boys total, a horrid collapse of seven for 37 put things on a more even keel at the end of the day. With their two closest title rivals both either winning already, or all but wrapped up victory, the pressure is on to get an outright result to keep their chances alive.

The only two afternoon grade sides in the entire club to get any play had differing fortunes in twin thrillers. Fourth grade got up by one-wicket margin over the Lancaster Park Woolston Yaks, although they made hard work of it. Chasing 182, victory looked assured at 142/3, and even later at 169/5, but a lower order stumble meant it was up to No. 11 Jason Guest to bludgeon the last nine runs required in order to seal it. Sixth grade fell five runs short of Burnside West University Maroon's 236 in a valiant chase once again led by skipper Everton Snell (84), who now has nearly 800 runs to his name this season.

The only match played on the women's side of the club was that of the Premiers losing their final one-day match to East Christchurch Shirley by 84 runs. Severely weakened by the absense of its New Zealand and New Zealand 'A' players, who are in a training camp for the Indian series, Saints could only take three wickets in 50 overs as Easts posted a good total of 223. They were always off the pace in the reply, with only Janet Brehaut showing any resistance with an innings of 46, as St Albans were bundled out for 139. It ends a disappointing one-day campaign which started so promisingly but, with only sporadic access to their representative players, proved too difficult to maintain consistency. However, they do get one chance at silverware as a new Twenty20 competition starts up next week and runs to the end of the season.

The fourth grade Senior Traditional girls played on Saturday morning and had a good win over Hornby 5, with Sarah Gagliardi starring with an unbeaten 29 and the impressive bowling figures of 4-3.

[Results Summary for St Albans Teams]
[Premier Men v Marist Scorecard]
[2005/06 Club Leaderboards: Batting | Bowling]


Latest St Albans player profiles

---

The latest victims are overseas amateurs Nick Massey and James Needham. Nick, one of the youngest male members of the club, is making his first cricket-playing foray outside of his native England. He has some serious overs under his belt already this season - 186.4 in all, the second most in the club to this point - and is the leading wicket-taker for the second grade men. The well-travelled James has made a rapid rise through the grades in his short time at the club. Initially starting as thirds' wicket-keeper he soon displayed dashing form with the bat which carried him up to second grade and shortly after into Premiers, where his wristy, VVS Laxman-like wielding of the willow hasn't yet quite managed to reap the same rewards. (Older profiles can still be access from popup menu at bottom right of this home page).

[Player Profile: Nick Massey]
[Player Profile: James Needham]


First title of season for Saints on day of high drama

---

February 18, 2006: The first grade Blue women are the first St Albans teams to be crowned champions in the 2005/06 season. Thanks to a fine all-round contribution of 28 and 5-7 from Kadion McDonald, Saints beat nearest challengers Sydenham by 72 runs in a low-scoring match. The win means they can't be overtaken in the grade with two matches remaining. It is the first win in this grade (formerly known as 'first reserve') since 2001/02.

Elsewhere, it was a day of amazing finishes and individual performances. The Premier men were dead and buried at 86/7 against Lancaster Park Woolston before a magnificent lower-order rearguard stole the show. Firstly Neil Cross' dogged 57 and Aaron Johnstone's dashing 40 off 37 balls got St Albans back in with a sniff with a stand of 61 for the eighth wicket. However, at 155/9 shortly thereafter, it looked a forlorn hope - until Nos. 10 and 11 Brad Smith and Richard Hooper defied the home side as they combined for an unbeaten last-wicket partnership of 42 to reach the victory target. Hooper had a day to remember, having early picked up 6-60 with the ball. The result drags Saints up into fourth on the table but failed to gain any ground on the table leaders, partly due to the fact theirs was the only game not to get any play on day one.


The second grade men almost pulled off a similarly thrilling result, but came up one run short in a controversial finish. After Old Boys Collegians 'A' set a slightly generous target of 283 in a minimum of 63 overs to win, the Saints top order fired them well within range with overs and wickets to burn. However, captain Kelvin Scott perished one ball after posting a fine 102 and wickets fell steadily thereafter. When, seemingly, three runs were required with the last pair at the crease, play was held up for the best part of 10 minutes while discussions were held upon the discovery of irregularities in the scorebook. A revised target of 281 was accepted, begrudgingly by some, meaning the scores were now level, but the first ball after the resumption of play saw the final wicket fall - a leg before wicket decision, one of many upheld in the closing stages of the match. The

Right: second grade captain Kelvin Scott posts his century [click photo to enlarge]

Third grade loosened their grasp on their two-day competition leadership with a disappointing five-wicket loss to the Sydenham Predators. They were dismissed for a paltry 131 in under 30 overs on a good batting wicket, despite a run-a-ball opening stand of 43 from promoted tail-enders Bryce Hackett and Dave Guthrie. A top effort in the field ensured Saints didn't make it easy for the Predators, forcing them to the 40th over before they finally knocked off the runs, and but for a couple of missed opportunities could've taken the game to the wire. Their first two-day loss of the season (albeit played a one-dayer thanks to last week's rain) means their lead over closest challengers the Predators slips to a vulnerable 9.15 points with two games remaining.

The first reserve men took part in yet another thriller, but this time couldn't quite emerge on the right side of the result. Playing their first match in the top-six section of the grade they went down by four runs to Merivale Papanui, the lowest placed team to make this section. Four-wicket bags to Brent Holland and Murray Griffin, and a valiant 60 from Roger Ford were all in vain as the target of 205 just proved out of reach. Their lead reduces to just 10 points and, though they still remain favourites to retain their title, they must be looking over their shoulders at the competition now.

In the men's afternoon grades, there wasn't too much to celebrate except stellar performances from a couple of the powerhouse batting captains. Fifth grade skipper Matt Sutherland finally broke through the three-figures barrier this season with an unbeaten 128, but couldn't quite get his team over the line despite some fireworks at the death. Needing 55 to win off the last five overs, and 22 from the last, the team fell an agonising five runs short of the target.

Sixth grade captain Everton Snell followed suit in even more emphatic fashion, blasting 160 out of the team's imposing 272 before having to retire hurt. His innings knocks second grade's Michael Johns (154 three weeks ago) off the top rung of the club's batting ladder this season. Alongside team-mate Dan Hutchinson's 9-15 it also means sixth graders hold pole position in the club's individual batting and bowling performances with just five weeks to go in the season. The team were the only winners in the men's afternoon grades, smashing the Burnside West University Lions by 156 runs - Snell alone surpassed the opposition's total.

Both the fourth and Presidents grade men lost by seven wickets, though the latter in somewhat more demoralising fashion. Up against the unbeaten East Christchurch Shirley Gold side, they were rolled for a meagre 43. This total included just 13 scoring shots garnering a mere 30 runs off the bat.

On the women's front, the Premier team's chances of making the final were all but wiped out when they went down to Lancaster Park Woolston twice over the weekend. On Saturday they fell 36 runs short of Park's 211 and on Sunday they were comprehensively outplayed, losing by nine wickets despite Amy Satterthwaite's career-best score of 89 out of a total of 174/8. With just one round-robin match against East Christchurch Shirley remaining, they need to win this and hope for Park to defeat Old Boys Collegians Country in the other match to have any slim hopes of advancing to the final on a countback.

The first grade Gold women's fortunes contrasted markedly from those of their Blue counterparts, going down again despite posting an impressive total of 209/5. Unfortunately for the promoted side it has been a steep learning curve this season for both batsmen and bowlers, though it was encouraging to see the former perform on this occasion. The third grade women won by default and the fourth grade girls continued their up-and-down season with a win.

[Results Summary for St Albans Teams]
[Premier Men v Lancaster Park Woolston Scorecard]
[2005/06 Club Leaderboards: Batting | Bowling]


Rain foils play for everyone except Premier women

---

February 11, 2006: Persistent poor weather during the week led to the early cancellation of all afternoon grades as well as preventing playing in any of the men's morning grades. The Premier men called off the opening day of their two-dayer against Lancaster Park Woolston after a 2pm inspection of the Garrick Park No. 1 wicket showed the ground was unfit for play. The second and third grade men's matches were abandoned on Friday - despite the former having covers, such were the conditions. The only St Albans team to see any play on Saturday was the Premier women, who were taking on Old Boys Collegians Country out at Rangiora. Sarah Parker was the star performer with the ball, taking 5-6 to help skittle Old Boys for just 81. Amy Satterthwaite's 40 ensured there were no great hiccups during the chase. The eight-wicket victory hauls Saints well back in contention for a finals spot in the hotly-contested one-day competition.

[Results Summary for St Albans Teams]
[Premier Men v Lancaster Park Woolston Scorecard]
[2005/06 Club Leaderboards: Batting | Bowling]


Top men's teams finish one-day rounds on differing notes

---

February 6, 2006: The Premier men lost to Sydenham by 79 runs and the second grade men beat Riccarton by 85 runs but both teams were already out of contention for spots in their respective one-day competition finals.

With the news earlier in the week that there was not to be a second-versus-third semi-final in the Premier one-day competition, the match against Sydenham took on far less meaning for Saints as they could no longer qualify for the straight shootout top-two final. Despite this, Saints started well after winning the toss and held Sydenham to 93/4 after 32 overs. Chad Romano swung the game around with a masterly 56 off just 41 balls, adding 68 in 54 balls for the sixth wicket with Chris Small. Romano's departure triggered a lower-order collapse, primarily engineered by Brad Smith, who took 5-42 off 9.5 overs. At one stage Sydenham were set for a much larger total than their eventual 207, but in the end it proved more than enough. Saints opener James Needham blasted out of the starting blocks with a quickfire 38 off 36 balls but when he fell in the ninth over with the total on 49, the runs dried up. Wickets fell steadily throughout the remainder of the innings as no real momentum was able to be regained and Saints were dismissed inside just 36 overs. Hayden Martin was the chief destroyer with the impressive figures of 4-19 off 10 overs. Sydenham go through to the final as top qualifiers, where they meet either Riccarton or East Christchurch Shirley (to be decided on a net run rate calculation). Saints, on the other hand, finish in equal fourth, missing out on the final for the first time in five seasons.

The second grade men finished their one-day season on an altogether brighter note, coming back from a poor start to comfortably deal to Riccarton on a tricky Hagley 4 pitch. Saints batted first and Craig Linton had to come to the rescue after they had slumped to 64/6. He added 55 for the seventh wicket with Nick Massey and 48 for the tenth with Richard Davidson before being last man out for 76. Saints' total of 182 proved more than a handful for their Oval neighbours, who folded for 97 in 38.1 overs - helped largely by a whopping 30 wides. Dan Johnston continued his golden fortnight by snaring 4-32, boosting his tally to 14 wickets at the expense of a mere 91 runs in his last two matches. Saints finish third in Pool 1, missing out to Southern Districts who advance to the final.

[Results Summary for St Albans Teams]
[Premier Men v Sydenham Scorecard]
[2005/06 Club Leaderboards: Batting | Bowling]


Reversal of fortune suffered by many teams

---

February 4, 2006: Seven days proved to be a long time in cricket as most of the St Albans teams who won so well last week ended up on the wrong side of the ledger this week, and vice-versa. Leading this trend was the afternoon grade men's teams, who all defied previous form - the fourth, fifth and sixth grade sides experiencing dramatic lows after tasting such sweet highs the week before against their respective grade leaders.

Fourth grade contained the Old Boys Collegians SNCC batting line-up to a gettable 211/4 but in their reply a late rally from 81/6 (later 126/8 and 158/9) was not quite enough. They fell short by just 11 runs, having gone into the final over needing 15 to pull off an unlikely victory. Fifth grade were hammered by their arch-rivals, the competition-leading Marist Fozzie Bears, victors by 80 runs after setting an imposing target of 275 off 40 overs. Sixth grade's batting failed to fire against Sydenham Red and were comfortably beaten by seven wickets. Presidents grade too suffered an about-turn from last week, but on this occasion it was for the better. Having lost their last two matches on the trot to front-running opposition the side dispatched Burnside West University as Jonathan Price's 65 spearheaded a well-managed chase of 156 for the loss of just four wickets.

The first grade Blue women and fourth grade girls too were overturned this week, having won the week before. The Blues valiantly tried to defend a meagre total of 125 but came up three wickets short. They would have hoped for their Gold team counterparts to come to the party and help compensate for the loss by upsetting chief competition rivals Sydenham. Alas, the Golds were comprehensively outplayed, losing by nine wickets. The Blue team's once-cushy overall lead of nearly 22 points after the two-day portion of the competition is now further eroded as Sydenham make a late charge for the title. The third grade women had their third win on the trot to keep their slender title hopes alive.

The Premier women kept themselves in the hunt for a final berth with an impressive six-wicket win over East Christchurch Shirley, bucking the worrying trend of four losses on the trot stretching back to before Christmas. Chasing a challenging target of 236 White Fern Sarah Burke anchored the innings with 80, easily the highest individual score for the side this season.

After a delayed start the Premier men battled through tricky second-morning batting conditions to gain first innings points against East Christchurch Shirley. However, having taken a five-run lead on the back of Nigel Jones' 95, Saints couldn't tempt Easts into making a game of it in the second dig. With no 'gimme' runs arrangement in place Saints attempted to win the normal way and, with their opposition soon 20/3, their chances looked fair. However a stubborn partnership between Darren Broom and Brandon Hiini put paid to that idea and Easts closed the day out safely on 252/9 - a draw which further prevents St Albans from gaining any ground on the distant top three in the two-day competition.

The second grade men were looking to finish off Marist quickly to wrap up a clinical victory but may as well have not bothered to turn up as most of their opposition didn't care to. The default, one of many by Marist's second grade side this season, translates to an innings win for Saints with the last four wickets effectively having fallen for no runs. The only downside to the outcome was the lack of matchplay (partially compensated for by a hastily-arranged open-wicket session instead!) and the denying of Dan Johnston the opportunity to add to his match haul of ten wickets.

The performance of the day unquestionably goes to Roger Ford of the first reserve men. The ex-Canterbury pace bowler proved the 'BBBB's talisman for the second time in four games by stealing victory from what was essentially a lost cause. Southern Districts needed just 17 runs to win with seven wickets in hand before Ford's devastating spell of 4-1 in the space of 13 deliveries turned the match on its head. A run-out on the first ball of the 45th and final over sealed an amazing four-run triumph. Ford was twice sitting on a hat-trick and finished with figures of 5-47 off 17 overs to complement his stunning 6-5 against Addington, who lost by 20 runs after having been 55/0 chasing 104 to win three weeks ago.

[Results Summary for St Albans Teams]
[Premier Men v East Christchurch Shirley Scorecard]
[2005/06 Club Leaderboards: Batting | Bowling]


Top day for Saints teams across the board

---

January 28, 2006: Most St Albans sides had great days to remember as seven out of nine teams contesting one-dayers won, while the three teams in the midst of two-dayers have either already won, have all but won or are in a decent position at the close of play.

On the two-day front, the Premier men are in a good position to stake a claim for first-innings points against East Christchurch Shirley. Richard Hooper took a tidy four-wicket bag while Nigel Jones continued his great run of form with an unbeaten 72 (on the back of 110 and 50 not out in his previous two Premier innings).

The second grade men only need to turn up next Saturday and pick up four wickets to complete a demolition job on Marist as Michael Johns and Dan Johnston cleaned up on day one. Opener Johns blitzed the Marist attack to the tune of 154 runs (his maiden century playing for St Albans) and, in the process, knocking former third grade team-mate James Needham (131) off the top of the club's leading batting performances table for the season. Johnston was not to be outdone, however, as he completed the rare feat of taking twin five-wicket hauls in a day's play. With the Marist second innings not yet over he still has the opportunity to bag up to 14 wickets in the match next week!

The third grade men were equally emphatic in their performance, beating Burnside West University Gold by an innings inside a day's play - the third time they have achieved such a feat in the last two seasons. Blair Glover carried his bat for an unbeaten 91 and had able support from Glenn Cooper who smashed 69 off 53 balls as the pair added 115 for the sixth wicket. Young seamer Phil Banks then terrorised the opposition batsmen with a barrage of short deliveries to grab four wickets and it took even fewer overs second time around for Burnside to capitulate when asked to follow-on.

The first reserve men carried on their merry way with an all-round team effort in dispatching New Brighton with little fuss. With a two-win buffer over their nearest rivals heading into the business end of the season, the 'BBBB's yet again find themselves in an extremely enviable position.

The fourth/fifth/sixth grade trio of afternoon grade men's sides continued their post-Christmas resurgence with tight victories. Between the three sides, they have lost only one match out of nine in the New Year. What was all the more extraordinary was the fact that all three mid-table teams beat their respective grade leaders on the same day.

The fourth graders ruined the Riccarton Hogs previously unbeaten record as captain James Alabaster narrowly missed posting his third consecutive fifty by two runs. Fifth grade captain Matt Sutherland went one better with his third fifty in a row as his side chased down a tricky target set by Lancaster Park Woolston by four wickets. The victory great boosts their previously slight chance of winning their grade. Sixth grade beat Burnside West University Maroon by four wickets also but, sadly, their title hopes remain slim.

On the women's side of the club the first grade Blue team defended superbly after posting a modest total of 128 against East Christchurch Shirley. Marjolijn Molenaar, in her last match for St Albans before returning back to the Netherlands, took 4-12 in the 36-run victory. The win maintains their comfortable standing at the top of the table. The Gold team had a day to forget, though, being scuttled for 84 and going down by a comprehensive margin of nine wickets. Only they and the Presidents grade men came out on the wrong side of the ledger on the day.

The third grade women successfully chased down 159 to beat Lancaster Park Woolston. The highlight was the effort of Casey O'Brien-Smith who dominated with an innings of 90 not out. This knock came on the back of an unbeaten 32 in the morning game for the fourth grade girls, who cruised to an eight-wicket win over Hornby 5.

[Results Summary for St Albans Teams]
[Premier Men v East Christchurch Shirley Scorecard]
[2005/06 Club Leaderboards: Batting | Bowling]


St Albans player profiles return!

---

A popular feature of the St Albans web site of the past has returned. Each week (or thereabouts) we will profile a player from one of our many and varied teams in order to introduce them to the rest of the club. Hopefully even their own team-mates will find out some interesting tidbits of information they didn't already know about them! The first 'victim' is our worldly visitor, Marjolijn Molenaar, who sadly returns to the Netherlands after this weekend's play. (Older profiles can still be access from popup menu at bottom right of this home page).

[Player Profile: Marjolijn Molenaar]


Premier men come back with emphatic win

---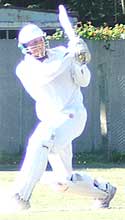 January 22, 2006: The Premier men kept their one-day finals hopes alive with a decisive seven-wicket victory over Lancaster Park Woolston. Michael Davidson and Richard Hooper were the key destroyers with the ball as the opposition could only muster a meagre 123 batting first. Dean Bermingham and Nigel Jones (50 not out, to go with his 110 on Saturday) knocked off the majority of the runs as Saints cantered to the target with nearly 27 overs to spare.

The second grade men, playing on the adjacent pitch at Garrick Park, emerged victors over their Park foes too, but in far more tense circumstances on this occasion. After being bowled out 12 runs behind on the first innings, a top all-round bowling effort restricted Park to just 156 second time around. Faced with a target of 169 and plenty of overs in which to get them, Saints got off to a breezy start and, at 86/2, it was looking like a cakewalk. However, a hasty middle-order collapse suddenly saw Park gain the whip hand. Needing more than 60 to win with just three wickets in hand, Mark Reid played a cool hand with support from Nick Massey and Dan Johnston. Johnston finished the match in dramatic style with consecutive boundaries, including a fine six over midwicket to complete a two-wicket win.

Right: Dan Johnston hits the winning six for second grade [click photo to enlarge]

Elsewhere, the two first grade women's sides both went down in previously-deferred one-day matches. The Blue team lost to Old Boys Collegians/Country by five wickets but, despite the result, retain their lead in the grade. The Gold side were looking to win three games on the trot but their respectable effort fell 30 runs short of a demanding target of 219 set by Sydenham.

[Results Summary for St Albans Teams]
[Premier Men v Lancaster Park Woolston Scorecard]
[2005/06 Club Leaderboards: Batting | Bowling]


Heartbreak at Hagley for Premier men

---

January 21, 2006: The Premier men went down by an agonising two runs in their one-dayer against Burnside West University. Chasing a competitive 201 for victory on a slow Hagley 1 surface, Nigel Jones (formerly Tubb, 110) and Neil Cross (50) combined in a fine partnership which got Saints more than halfway to the target. Upping the ante at the death as the required run rate steadily rose proved a difficult task in the conditions, although with seven runs required in the final over and plenty of wickets in hand the home side were seen to have the edge. It wasn't to be, however, with Burnside effecting a simple run-out off the final ball when three runs were needed. The result puts a severe dent in Saints hopes of appearing in a fourth straight one-day final, but they can jump back on the horse immediately when they play Lancaster Park Woolston tomorrow. Wins in that match and the final round game against Sydenham will still be enough to give them a good chance of a semi-final berth.

A result that was just as demoralising was that of the third grade men, who suffered their first loss of the season. They were unable to sufficiently recover from a disastrous start batting first in a do-or-die semi-final, eventually going down by seven wickets to the Sydenham Predators. Thirds are thus are knocked out of their one-day competition, despite having held a notably superior record during the mini round-robin phase. With no semi-final in the other group the result brings into question the fairness of the format in this imbalanced grade.

Second grade men are on an even footing with Lancaster Park Woolston after day one of their two-dayer, trailing by 37 runs with three first-innings wickets in hand. This match wraps up tomorrow, alongside the Premiers' one-dayer at Garrick Park.

Elsewhere, the first reserve men keep on trucking along nicely, maintaining their standing at the top of their grade after beating Harewood in a high-scoring encounter in which Dean Read and Nathan Tikao were standouts with the bat. The afternoon grade men's teams also enjoyed another successful week, again led by example by their skippers. Captains James Alabaster (90, following last week's unbeaten 95, fourth grade), Matt Sutherland (twin '56s', fifth grade) and Everton Snell (90 and 60, sixth grade) have all cashed in on the batsman-friendly New Year conditions. Individual highlight of the day must go to Dan Hutchinson, who shared in a huge opening partnership with Snell in sixth grade while scoring an even 100 - which nicely accompanies his 9-15 with the ball immediately prior to the Christmas break. Unfortunately one afternoon grade side which proved an exception was the Presidents men's side, which got thumped by 10 wickets by Riccarton. With both sides 10 points off the lead in a clear joint-second place going into the match it means their chances of winning the title have depreciated greatly.

On the women's front, the Premiers again struggled without their representative players, being well beaten by Old Boys Collegians/Country. Both the first grade teams won though - Tessa King taking 5-8 as the Blues smashing Lancaster Park Woolston; while the Golds collected points for the second week in a row after East Christchurch Shirley defaulted to them.

[Results Summary for St Albans Teams]
[Premier Men v Burnside West University Scorecard]
[2005/06 Club Leaderboards: Batting | Bowling]


Perfect days for afternoon grade men's teams

---

January 14, 2006: The four men's afternoon grade teams won in convincing fashion with their captains leading from the front. James Alabaster (95 not out, fourth grade), Matt Sutherland (56, fifth), Everton Snell (60, sixth) and Alan Jamieson (6-29, Presidents) were in fine form to guide their teams to victory. For club president Jamieson it is the 19th time he has snared six wickets or more in an innings in the last 30 seasons.

The first reserve grade men pulled off a remarkable comeback win to remain at the top of their grade. After being bundled out for 103 by Addington, and the home side seemingly cruising at 55 without loss in reply, ex-Canterbury representative Roger Ford stepped up with a superb spell of bowling to swing the match in Saints' favour. Ford's haul of 6-5 meant the 'BBBB's ended up victors by the relatively 'comfortable' margin of 20 runs.

The first grade women's teams each suffered a surprising reversal of fortune. The previously unbeaten Blue team went down to Sydenham by four wickets while the Gold team overcame Lancaster Park Woolston to record their first win of the season. Star of the day was Kara Goodacre (the future Mrs Stephen Cunis) who blitzed the Park attack for an astounding 46 off just 16 balls. Captain Trudy Rolton put the icing on the cake by striking a six to win the match with the last pair at the crease. Meanwhile, the Premier women were comfortably accounted for by East Christchurch Shirley and slumped to last place, although only 10 points off the pace, in the tight four-team one-day competition.

The Premier men failed to consolidate their advantage from the first day against Old Boys Collegians. After quickly wrapping up the Old Boys first innings in the morning they crumbled for 97 second time around, eventually going down by six wickets thanks largely to the all-round efforts of Old Boys' Brent Findlay. The result leaves Saints more than 31 points adrift of leaders East Christchurch Shirley, and nearly 26 behind third-placed Old Boys, meaning an extremely difficult ask for the defending champions in the second half to the competition if they are to retain their title.

Second grade fell 19 runs short of victory against Burnside West University after the hosts set a reasonable target of 215 to win in 45 overs. Third grade defeated East Christchurch Shirley Gold by 111 runs with just under an hour to spare to fortify their lead in the two-day competition. The highlight of the day was Kerry Tate's hat-trick, coming up with a perfect off-stump yorker first ball, having had to wait seven days for the opportunity after finishing off the Easts first innings with two-in-two-balls.

On the Sunday, St Albans put forth a selection XI to meet a Christ's College first XI in a 40-over friendly match on the Christ's College ground. Saints battled after electing to bat first, losing their sixth wicket with less than 100 on the board. Andrew Cuttriss steered the innings towards a more respectable total with an accomplished 52. However the innings finished in a dramatic rush with four wickets in seven balls, including three golden ducks (to add to one earlier). The Christ's top order made light work of the target of 153 initially with Christchurch Boy's High School import Brendon McFarlane rattling up a quickfire 48. A middle-order collapse came too late to prevent a comfortable victory to the schoolboys by four wickets with nearly five overs to spare. The best of the Saints bowlers were the largely luckless Andy Bryant and surprise package Aaron Johnstone, taking a second opportunity within a week to do away with the gloves in favour of some time in the field.

[Results Summary for St Albans Teams]
[Premier Men v Old Boys Collegians Scorecard]
[St Albans Selection XI v Christ's College Scorecard]
[2005/06 Club Leaderboards: Batting | Bowling]


Premiers pull off narrow Twenty20 victory

---

January 11, 2006: The Premier men came back from near-certain defeat to steal a one-wicket Twenty20 victory over Old Boys Collegians. After being asked to field first a consistent effort from the St Albans bowlers kept Old Boys to a manageable total of 139/8. A measure of their discipline was the fact no batsman managed to reach 30 and only one over went for more than 10 runs in this fast-paced form of the game. The wickets were shared around while Aaron Johnstone enjoyed a rare opportunity to rid himself of the keeping gloves, taking three catches fielding in the inner circle.

As if on cue, the heavens opened just as St Albans were to begin their reply, though the players soldiered on through the awkward conditions. The rain was so bad that opening bowler Hamish Bennett was forced to come in off a couple of paces to avoid adding to the Canterbury team's already-sizeable injury list! Andrew Bailey opened up as if he wanted the game over immediately, smashing four, four, six and four off the opening four deliveries of the innings. However, Richard Brooks had his revenge on the last ball, having Bailey caught on the midwicket boundary attempting to strike 24 runs from the over. From then on St Albans stuttered and stumbled their way through the middle overs, with no partnership adding more than 20 as batsman too often preferred to search for the big hit over accumulation - and regularly paid the price.

At 103/9 and all hope looking lost it took Nos. 10 and 11, Brad Smith and debutant Nick Massey, to show the way. The pair smartly collected low-risk singles, interspersed with a few useful blows to the boundary, and quickly the target came down to just six required off the last over. A lofted drive to the vacant long-on boundary by Smith levelled the scores on the third ball, and a suicidal quick single taken from a ball played straight to the point fielder (who missed a chance to tie the game with a direct hit from side-on) sealed victory with two deliveries to spare. The partnership realised 37 off 33 balls, with Smith ending up top-scorer with 26 not out. The win means St Albans advance to the Twenty20 Plate final, having missed out on the Cup section with an earlier knockout defeat to Sydenham.

[Premier Men v Old Boys Collegians Scorecard]


Top men's teams compete well on return to action

---

January 7, 2006: The club's bench strength was tested on the opening day's play back after the Christmas/New Year break, coming through well. The Premier and third grade men enjoy handy first-innings advantages in their two-day matches, though the second grade men have a little work to do to wipe off much of the current deficit they face against Burnside West University. The first reserve grade men cruised to victory in quick time over the Old Boys Collegians Cavs. Individual highlight of the day was third grade's Bjorn Dix posting the club's fourth century of the season (and the team's second) with 103 against East Christchurch Shirley Gold. The club welcomed back Andrew Bailey, visiting briefly from the Netherlands, who made 48 to close within 17 runs of posting 2000 runs at Premier level for St Albans.

[Results Summary for St Albans Teams]
[Premier Men v Old Boys Collegians Scorecard]
[2005/06 Club Leaderboards: Batting | Bowling]


Individual performers to the fore on final day's play before Christmas

---
[Christmas party photos now available]

December 17, 2005: Sixth grade medium-pacer Dan Hutchinson starred with the stunning figures of 9-15 on a day of top performances by St Albans players. A newcomer to the club this season, Hutchinson had a brief opportunity to bag all ten Sydenham Blue wickets after dismissing the first nine batsmen to fall with a few balls remaining in his eight-over allotment, however couldn't quite pull off the feat. Nevertheless, his figures are the best by any St Albans player in nearly 20 years and rank fourth since 1975/76 (as far back as records go at present). What was perhaps just as remarkable as the performance itself was the fact that sixth grade lost the match by 10 runs - chasing just 84 for victory!

Right: Sixth grade's Dan Hutchinson celebrates his nine-wicket haul at the St Albans Christmas party


Best bowling performances for St Albans (since 1975/76)
PLAYER
FIGURES
TEAM
OPPOSITION
SEASON
Les Watson
9-5
Presidents Men
v Sydenham
1977/78
Ross McNally
9-12
4th Men
v Lancaster Park
1977/78
Brett Harrison
9-12
1st Men
v Marist
1986/87
Dan Hutchinson
9-15
6th Men
v Sydenham Blue
2005/06
Paul Gooby
9-21
4th B Men
v Lancaster Park
1996/97
Jayne Beattie
9-23*
Senior B Women
v Burnside West University
1980/81
Harry Shepherd
9-32
4th Men
v East Christchurch Shirley
1978/79
* includes a hat-trick

Elsewhere, it was a top day for the men's morning grade sides. Premiers fought back from a precarious position to set Riccarton a nominal end-of-game target of 178 off 17 overs and, with nine fielders and the keeper surrounding the bat, did their darndest to scuttle them inside that time. Riccarton eventually settled for the draw finishing on 58 for six. Chris Harris, who was not even set to play on the day until he turned up unexpectedly, played a prominent hand with 54 and 4-24.



The entire team looks on as Richard Hooper dives for the ball at leg slip during the final over of the Premier men's two-dayer against Riccarton [click photo to enlarge]

Second grade continued their good recent run with a long overdue first two-day win of the season. Saints' second innings consisted of a manic morning session flurry of runs (overseas amateur James Needham picking up a second dashing fifty for the match) and wickets to set up an afternoon chase. Old Boys Collegians 'B' were never really in the hunt after early incisions into the top order were made as fellow amateur Nick Massey toiled hard to bag his first five-wicket haul in New Zealand.


Third grade once again got over their second innings jinx to remain unbeaten before Christmas. Having taken just 22 overs to roll Burnside West University Maroon in the first innings, they needed a further 87.1 overs to finish them off a second time to leave a nuisance target of 91 to win. Early jitters at 35/4 quickly subsided as Michael Johns blitzed his way to a run-a-ball fifty.

Right: Michael Johns posts another swashbuckling half-century in third grade [click photo to enlarge]

The first reserve men became outright leaders in their grade again after dispatching previous co-leaders Halswell in clinical fashion. A 170-run stand between Danny McCarthy (118) and Nathan Tikao (82) on the large Halswell Domain ground effectively spelt the end for their opposition, who stuttered their way to a dismal 92 in the face of some fine bowling from Brent Holland and Roger Ford.

It wasn't such a flash day for most of the other teams in the club, however. Only the fifth grade men, convincing winners over Marist Green, and the first grade Blue women, who easily accounted for the Gold side in a St Albans derby match to remain unbeaten and comfortably clear at the top of the grade, ended up on the winning side of the ledger.

The Presidents grade men had a big clash with rivals Riccarton, with the winner claiming second place at the completion of the first round-robin phase. Unfortunately, it wasn't easy going and a total of 133 proved too difficult to defend as Riccarton cruised to a comfortable seven-wicket win.

The Premier women too faced traditional foes in the form of Lancaster Park Woolston in what is already turning out to one of the closest-fought one-day competitions in a while. Beth McNeill's 5-25 helped keep the target to a manageable 162 but Saints fell well short in the end, being bowled out for 102.

[Results Summary for St Albans Teams]
[Premier Men v Riccarton Scorecard]
[2005/06 Club Leaderboards: Batting | Bowling]


Both Premier teams endure bad days but others do well

---

December 11, 2005: The penultimate weekend's play before Christmas saw most teams performing well but the two flagship sides of the club didn't have such great days to remember. The Premier men are on the back foot after day one of their two-dayer against Riccarton after being bowled out for 90 upon being sent in. The Premier women lost a thriller on the last ball to Old Boys Collegians/Country at Rangiora despite a fine all-round contribution from Sarah Burke. The second and third grade men's teams both enjoy handy first day advantages - the former fighting back from a poor start with the bat while the latter enforced the follow-on but couldn't immediately make the most of it. The first reserve grade men well and truly got back on the horse after a couple of losses by crushing Merivale Papanui, bowling them out for a paltry 48. Sixth and Presidents grade men and third grade women also continued their recent good form with comprehensive victories. Things return to normal next week with games scheduled for Saturday (the last day's play before the Christmas break) after most matches this week had been played on Sunday due to the One-Day International at Jade Stadium the day before.

[Results Summary for St Albans Teams]
[Premier Men v Riccarton Scorecard]
[2005/06 Club Leaderboards: Batting | Bowling]


Women's teams shine while men struggle

---

December 3, 2005: St Albans' men's teams struggled to keep up their mostly good form this weekend with only two of the eight sides registering wins. Third grade men maintained their unbeaten run but it wasn't all plain sailing as Sydenham Blue fought back bravely to keep the result in doubt until late in the piece. Presidents grade are in top nick, beating the Sumner Misfits to remain in second place. Premier and second grade men came back well from unfavourable first-day positions to earn draws with different levels of parity at the close of play. The highlight of the day was Premier captain Aaron Johnstone registering his maiden senior 50 in his 79th match and also passing John Thompson as the second most prolific wicket-keeper in the club's history with 160 dismissals. First reserve grade men suffered a second shock loss in a row, this time to Hornby, however still remain top of the table. The women's side of the club fared much better as a whole, with Premiers and first grade Blue both easily seeing off East Christchurch Shirley teams, plus thirds and fourths picking up victories as well. Only the battling first grade Gold side failed to emerge winners but will now be looking forward to the one-day portion of their competition now that the less familiar two-day format is complete. The women's highlight of the day was first grade Blue's Clare Nicholas taking 6-9 to knock fourth grade men's Ray Brown off the top of the club's best performances table this season.

[Results Summary for St Albans Teams]
[Premier Men v East Christchurch Shirley Scorecard]
[2005/06 Club Leaderboards: Batting | Bowling]


Saints teams fare better in one-dayers

---

November 26, 2005: There was a mixture of outcomes for St Albans teams in two-day cricket this weekend, with those playing one-dayers enjoying much more success. The fourth and sixth grade men's sides continued to rise from dismal starts to the season with their third win each in November. Presidents grade kept on track to make the top post-Christmas section with victory in a low-scoring last-over thriller. The Premier women opened their account by tipping over defending champions Lancaster Park Woolston in what is already proving to be an evenly matched one-day competition this season. The biggest surprise of the day was the first reserve men going down by 1 wicket to their arch-rivals, the East Christchurch Shirley Hooters, despite Graeme White's fifth half-century of the season. Their first loss of the season leaves the third grade men as the only St Albans team to have won every game so far this year. That record looks relatively safe for another week too after thirds dominated day one of their game against Sydenham Blue, the highlight of which being Michael Johns' stunning 37-ball assault for an unbeaten 73. The Premier men face an uphill task on day two of their game against East Christchurch Shirley, trailing by 97 runs with only four first-innings wickets in hand but will at least be encouraged by Richard Hooper's St Albans senior debut performance in grabbing four wickets.

[Results Summary for St Albans Teams]
[Premier Men v East Christchurch Shirley Scorecard]
[2005/06 Club Leaderboards: Batting | Bowling]


Premier men lose low-scoring Twenty20 opener

---

November 22, 2005: The Premier men's team lost to Sydenham by 5 runs in their opening Twenty20 match at Sydenham Park. After being asked to field first St Albans got off to a great start with Brad Smith taking two wickets off successive balls in the match's first over. With the pitch having remained uncovered through overnight rain the conditions were far from suitable for batting and it showed as Sydenham struggled to 57/8 in the 15th over. Three of those wickets were to leg before decisions and three more to batsmen being deceived by the lack of pace and chipping balls straight back to the bowler. However, some lusty hitting by Chris Small in the final overs took the home team to a competitive score of 97. St Albans started poorly, falling to 19/3 after 7 overs. Stephen Cunis and Dean Bermingham added 37 in 46 balls for the fourth wicket to right the ship but wickets fell steadily through the latter overs despite the lower order keeping up with the asking rate. Brad Smith faced the last ball of the innings from Small needing to hit a six for victory but could only strike a high full toss straight to midwicket. The loss means St Albans enter the Plate section with the three other first round losers and will play either one or two more games in this competition, depending on whether they are successful in the first of these.

[Premier Men v Sydenham Scorecard]


Men's teams enjoy top day

---

November 19, 2005: The men's side of the club led the way this weekend with seven out of eight teams tasting success. The Premier side crushed the hapless Marist side by 10 wickets while second grade had their first win on the field. Third grade and first reserves both remain unbeaten this season, with the former confirming their status as top qualifiers for their one-day pool decider to be played in January. The only blip on the men's front was the fifth graders being outplayed by Lancaster Park Woolston. The women's teams didn't fare all that well either with three of the five teams experiencing losses. Premiers went down in their opening one-day match but first grade Blue remained top of the table with a convincing two-day victory.

[Results Summary for St Albans Teams]
[Premier Men v Marist Scorecard]
[2005/06 Club Leaderboards: Batting | Bowling]


Rain kills off Premier men's one-dayer

---

November 13, 2005: The Premier men's team were in a reasonable position of 115/1 in the 41st over when persistent rain forced the abandonment of their match against Canterbury Country at Rangiora. Elsewhere, the men's side of the club enjoyed a highly successful Saturday's play with victories for all teams except fourth grade. The individual highlight was sixth grade captain Everton Snell scoring the club's second century this season. The women's teams too enjoyed reasonable success with both first grade teams in good positions after day one while third grade were the only side to lose.

[Results Summary for St Albans Teams]
[Premier Men v Canterbury Country Scorecard]
[2005/06 Club Leaderboards: Batting | Bowling]


Premier men and women enjoy victories in low-scoring affairs

---

November 5, 2005: The Premier men chased down 86 in a one-dayer against East Christchurch Shirley on a Burwood Oval No. 1 pitch that wasn't friendly to batsmen, crawling over the line with just three wickets in hand. Chief destroyer was Richard Davidson, recording career-best senior figures of 4-13. The Premier women tasted success for the first time this season, sneaking past the same opponents by four wickets having bowled them out for a paltry 75 in the second innings. The result means they avoid the two-day competition wooden spoon. Elsewhere, the second grade men went down in another tight contest and are still searching for their first win of the season. At the other end of the spectrum, both the third and first reserve grade men remain unbeaten in 2005/06 after impressive but contrasting wins in their respective competitions. The fourth grade men enjoyed their first win of the season but the Presidents grade men were outgunned by a top class East Christchurch Shirley Gold outfit, who take the Graeme Frampton Challenge Cup back into their possession. Both first grade women's teams managed to cling on for draws when things were looking grim towards the end of their matches.

[Results Summary for St Albans Teams]
[Premier Men v East Christchurch Shirley Scorecard]
[2005/06 Club Leaderboards: Batting | Bowling]


Premier men just fall short of victory

---

October 29, 2005: The Premier men were unable to finish off Lancaster Park Woolston in their two-day match, falling one wicket short of victory after setting a target of 232 to win off 67 overs. A dropped catch off Chris Harris' bowling in the match's final over summed up Saints' frustration. Elsewhere it was an average day for St Albans teams with four wins, four losses and three women's two-dayers that are evenly poised after the first day. The Presidents grade men yet again set the standard by posting their second successful defence of the Graeme Frampton Challenge Cup.

[Results Summary for St Albans Teams]
[Premier Men v Lancaster Park Woolston Scorecard]
[2005/06 Club Leaderboards: Batting | Bowling]


Premier men go down to Riccarton in Labour Day one-dayer

---

October 24, 2005: The St Albans Premier men were unable to continue their dominance from earlier in the weekend as they lost to Riccarton in a one-day Cup match by 73 runs. Riccarton, celebrating their centenary this weekend, won a crucial toss and chose to bat first on a pitch that was to get much lower and slower later on under the hot Christchurch sun. Canterbury batsman Shanan Stewart was in commanding form in notching up 118 opening the innings while Chris Mugford and Hayden Shaw put the icing on the cake at the end of the innings to round off a formidable total of 263/8. Only Neil Cross (2-26 off 10 overs) managed to keep the scoring rate in check. Saints were unable to gain much traction in the chase right from early on and the asking rate soon ballooned out to put Riccarton well in control. Steven Knox (52) and Stephen Cunis (36) struck some lusty blows in vain before the inevitable conclusion as the last eight wickets fell for just 75 runs.

[Premier Men v Riccarton Scorecard]


First century of the season posted in the club

---
October 22, 2005: James Needham (third grade men) has cracked the first ton four weeks into the 2005/06 season with a dazzling 131 off 119 balls against Riccarton, setting his side up in a very strong position on day one of their two-dayer. The Premier men too enjoy a position of relative power thanks to Dean Bermingham's rearguard action (scoring 68 of Saints' last 91 runs) and bowlers Brad Smith and Stephen Cunis running through Lancaster Park Woolston's batting line-up. Elsewhere it was a very good day for St Albans teams with a number of convincing victories recorded, including the Presidents grade men who defended the Graeme Frampton Challenge Cup with ease. The one exception was the Premier women who had another day to forget, being rolled for 28 to lose by an innings.

Right: Third grade's James Needham acknowledges the applause of his team-mates as he brings up a 100-ball ton against Riccarton

[Results Summary for St Albans Teams]
[Premier Men v Lancaster Park Woolston Scorecard]
[2005/06 Club Leaderboards: Batting | Bowling]


Premier teams encounter differing fortunes in third week

---

October 15, 2005: The Premier men's team left it late to wrap up outright points against Marist with Michael Davidson's fourth wicket completing victory with three balls to spare on an extended day's play. The Premier women meanwhile are in dire straits against foes Lancaster Park Woolston, losing 15 wickets in the day in making a total of 63 runs. For the remaining Saints teams it was a reasonable day with more wins registered than losses (and two of the losses were by margins of 9 and 14 runs). The Presidents grade men won the Graeme Frampton Challenge Cup (a trophy awarded on the same basis as the Ranfurly Shield) by convincingly beating the Sydenham Cardinals.

[Results Summary for St Albans Teams]
[Premier Men v Marist Scorecard]
[2005/06 Club Leaderboards: Batting | Bowling]


Second Saturday a damp squib

---

October 8, 2005: Rain has caused the cancellation of play in all grades. The Premier and first grade women's two-dayers end as draws as a result. The start to the Premier, second and third grade men's two-day Trophy competitions are delayed a week. Premiers and seconds will start at the earlier time of 10am next week, with the option of forfeiting first innings to play for outright points, while third grade will play a 50-over match for 5 points. The beginning of the third grade women's competition is also delayed a week thanks to the weather.

[Results Summary for St Albans Teams]


Mixed bag for St Albans teams on first day's play

---

October 1, 2005: A number of St Albans teams struggled on the opening day's play of the 2005/06 Christchurch metropolitan club cricket season. The only comprehensive victors were the Presidents grade men, while Premier, third and first Reserve grade men all grittily defended moderate totals. The remaining men's sides lost while the three women's teams all had some level of parity after day one of their two-dayers. Individual highlights of the day belonged to two of the club's wicket-keepers. Veteran BBBB's keeper Graham Curgenven effected his 300th dismissal since his debut for the team in 1988/89 and Everton Snell gloved five catches to go along with his 67 in sixth grade.

[Full Results for St Albans Teams]
[Premier Men v Old Boys Collegians Scorecard]
[2005/06 Club Leaderboards: Batting | Bowling]


St Albans warm-up against Upper Valley

---

September 24, 2005: The St Albans men's team went down by 5 wickets with just 5 balls remaining to the visiting Upper Valley side from Wellington. In slow, low conditions on Hagley 4, St Albans ticked over the scoreboard at a good rate despite the loss of early wickets. Only Neil Cross (47), a fresh arrival to the country from Cheshire in England, was able to pass 25 for the home side, though many others got starts. Left-arm spinner Michael Billmore rattled the tail with 4-34 from 9 overs but St Albans still managed to post a competitive 193/9 from their 45 overs. Former Black Cap Matthew Bell struggled for a 27-ball 1 before Mark Young (46) and Michael Parlane (59) posted a match-winning second-wicket partnership of 92. The required run rate briefly lifted above run-a-ball needed before Upper Valley stuttered their way over the finishing line. They win the newly-created trophy 'The Embers', having lost the two previous seasons' warm-up encounters by similarly close margins of one and three wickets.

[Full Scorecard]